Hello NY! Girl Knew York's Pop Up
Aug 16, 2021
Read More
New York City based tattoo artist Mira Mariah is the kind of cool we all want to be. Clever and creative, she built her brand, Girl Knew York, around the concept of New York parties.
A mother, artist, and tattooist to celebs like Ariana Grande, Mariah fits no single category. Her work, linear and glamorous, is matched only by her energy, and while tattoo is her primary medium, she has transcended this description with collaborations across the spectrum, including limited edition neons with us.
Today, she's bringing her brand to life for all of us with a Girl Knew York pop-up store at Rockefeller Center, open now through August 31, 2021.
In a way, the shop will feel like "a surrealist New York gift shop" Mariah told The Center, Rockefeller Center's magazine. Find T-shirts, hats, and other merch for sale alongside tatted up vintage Playboy centerfolds, ancient Greek style statuettes and our exclusive neon artwork. For both locals and visitors, the shop provides a chance to connect with the brand in a way they likely never have before. Mariah continued, "I'm really excited to be able to access people and have people access my art that are not just getting tattooed."
The pop-up really is a signifier of Mariah's growing brand, which is now HQ'd in Tribeca. One purpose, she explained, is to communicate that "Girl Knew York is no longer [just] me. Girl Knew York is you." Kind of like the city from which she hails, Girl Knew York is an energy, an attitude – and all are welcome.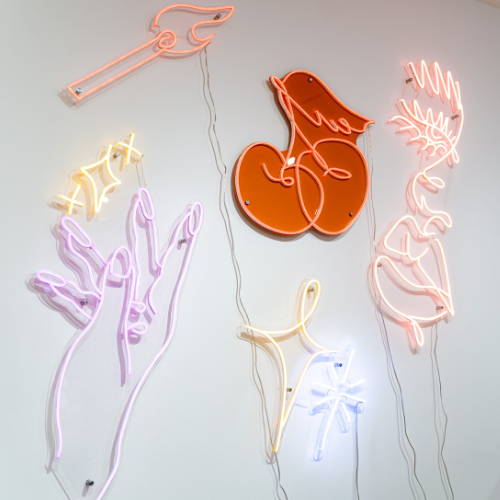 Check out Girl Knew York's pop-up in Rockfeller center through August 31, 2021 and be sure to stop by for some of the events Mariah has planned:
August 15: Private live drawing class — a chance to drink wine and create art with the Girl Knew York team.

August 19: Art event where visitors can purchase Mariah's original paintings (one of the few times she will have ever sold them, she says) and etched mirrors, among other works.

August 26: Mariah has invited her sought-after personal psychic Sarah Potter for a Witching Hour party featuring a guided meditation, intention-setting ceremony, and one-on-one time with guests.
Girl Knew York is open at 30 Rockefeller Center from August 4 - 31, 2021. Store hours: Tues-Weds from 11am - 7pm; Thurs-Sat from 11am-8pm, and Sun from 11am-7pm. Visit the Girl Knew York store page for further information about events and to purchase tickets.
Read more about our collaboration with Girl Knew York here