Cocooning Season : Snuggle Up Under The Neon Glow
Sep 30, 2020
Read More
Winter is coming, and it's time to upgrade our cocoons. We've been at home for the past 6 months and our spaces definitely deserve to level-up. We feel that every home should have an area where you can recharge your batteries and unwind, cue yoga instructor-voice "breath in… and out…" But we all feel relaxed and protected in different ways! Depending on your personality, such a space can serve different purposes.
You love to: get creative, let some steam out and exercise, work remotely or just to relax with friends and family? We got you covered with some examples of cool spots to create in your home.
Let the creative juices out
Whether you're a photographer, a painter, a graphic designer or just want to work on your bullet journal, having a dedicated desk with a clean environment to create your next masterpiece is essential. The best thing about custom neon signs is that they can become an art piece in themselves. We can even turn your own art into a neon! Whatever sign you choose, it'll be sure to unlock that boost of inspiration you've needed for a while, set you free from writers' block or serve as a wonderful backdrop for your next photoshoot.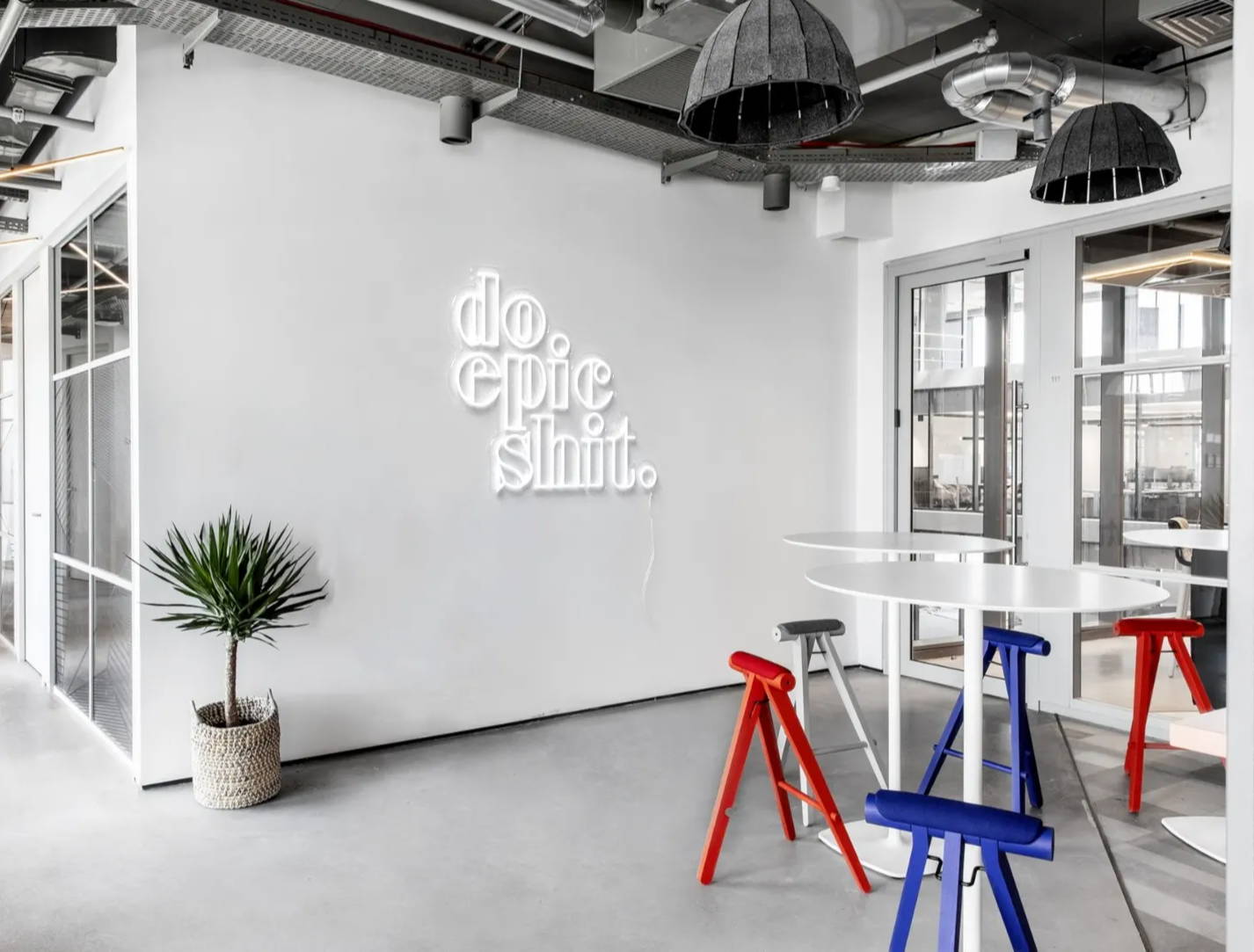 Going to the gym or your favorite yoga classes has been slightly challenging lately, judging by the massive success of workout apps like Aaptiv. Having a dedicated space to exercise at home is the perfect way to finally get your exercise routine in every day. A set of weights, a yoga mat and a few free youtube classes are more than enough to start with, but you can even go the extra mile with a Peloton bike or this innovative digital Mirror with certified trainers providing live feedback. But of course, this space wouldn't be complete with an inspirational neon to keep you motivated throughout your workout sessions!
Working from home doesn't have to rhyme with being slumped on your sofa or hunched over your kitchen table. There are plenty of ways to optimize your work space and create a relaxed work environment. First step is to work on your posture : treat yourself to a nice desk chair, a stand-up desk or even one of those bouncy balance balls if that's what works for you. For the final touch, a brand new colorful neon can really help to get you excited for work in the morning, take it from us!
Photo: by Mara on @doublewhitedesign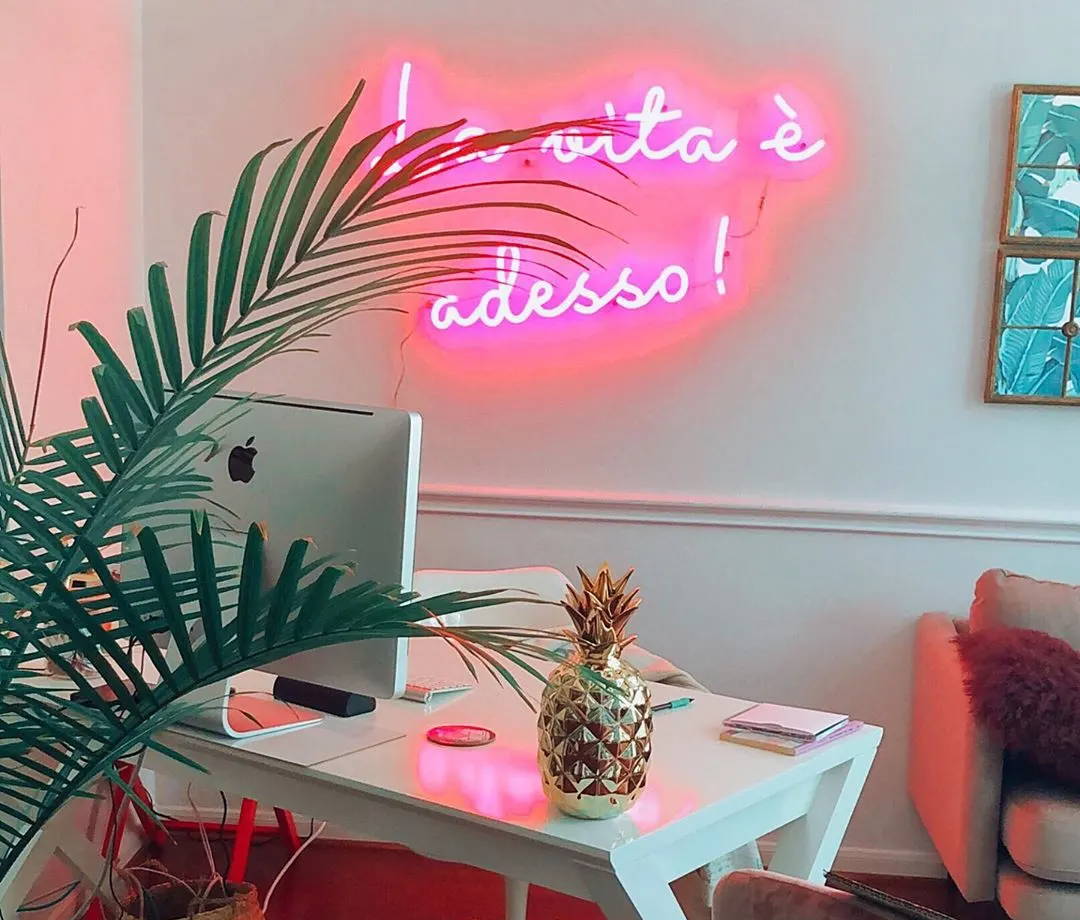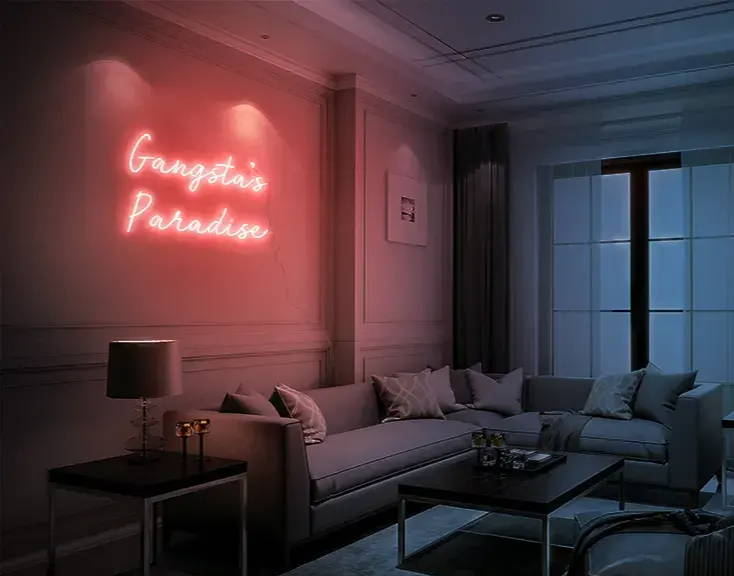 Game night? Poker Night? Superbowl? Movie night? Whatever you enjoy doing while spending time with your squad, it doesn't have to be in a dark basement with green lights and a pool table (although those are definitely cool to have). A comfy seating area, maybe even a cool rug, a nice large screen, a coffee table for food and drinks... what more do you need you may ask? You saw it coming: get a custom neon sign of your favourite rap lyrics and enjoy the night!
Photo: "Gangsta's Paradise" yellowpop collection