House Homo: Richard O'Gorman's home decor tips and tour
Mar 31, 2021
Read More
Get lost in the colorful world of this color obsessed UK design star on the rise.
There are makeovers. And there is pure design magic. For interior stylist and mural master Richard O'Gorman, a furlough at work during the pandemic meant his dream house was within reach. With endless time to create, and as much creamy, candy tone paint as he could get his hands on, Richard's drab Victorian and his Instagram account, House Homo, became a form of color therapy in a year that needed a few more bright spots.  
Check out our interview with him to hear how his account blew up virtually overnight, and how to add some boldness to your own home decor game.
Thanks for sharing your amazing space with us. Wow. So much fun. Can you tell us a little history on the property, you know, before you worked your magic on it?
Thank you for having me! So the house was built around 1900. It's a late Victorian terrace with lots of character (and a creepy af basement), but the moment I saw it, I fell in love!
How did you approach such a huge undertaking? Did you have one grand vision from the outset, or did you just come up with ideas on the fly?
VERY much on the fly (bzz) I actually planned to have a really minimal and chic home but setting up the IG account as househomo was a turning point, and it's sort of grown into its namesake! I moved in just before lockdown, so when I was furloughed I figured I'd never have this much time again. So I grabbed a paintbrush and as much paint as I could get hold of and went for it!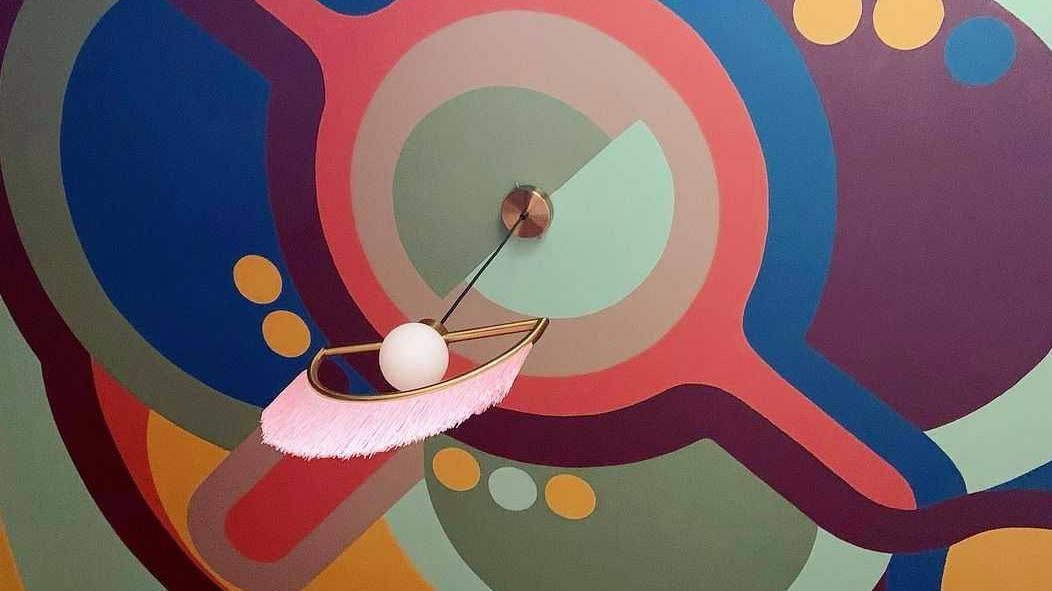 ---
If you could describe your aesthetic in terms of food, what flavor would it be?
I immediately went to tapas; lots of different colours and flavour with a hint of spice!
A lot of people are afraid of using color on their walls – and especially their ceilings. Here's your chance to convince them. How has embracing color impacted the mood and energy of your space?
One of the most surprising moments was when I painted the bathroom ceiling yellow. What I hadn't considered is that the sunlight hit the ceiling and just radiated warmth and light down the corridor and through the whole of the upstairs. It was completely transformative (and completely unplanned, like the best of househomo ideas). Going bold with colour in every room is nothing short of joyous! Each time I walk into a new room, I get this hit of colour and life, and why WOULDN'T you want your home to give you that shot?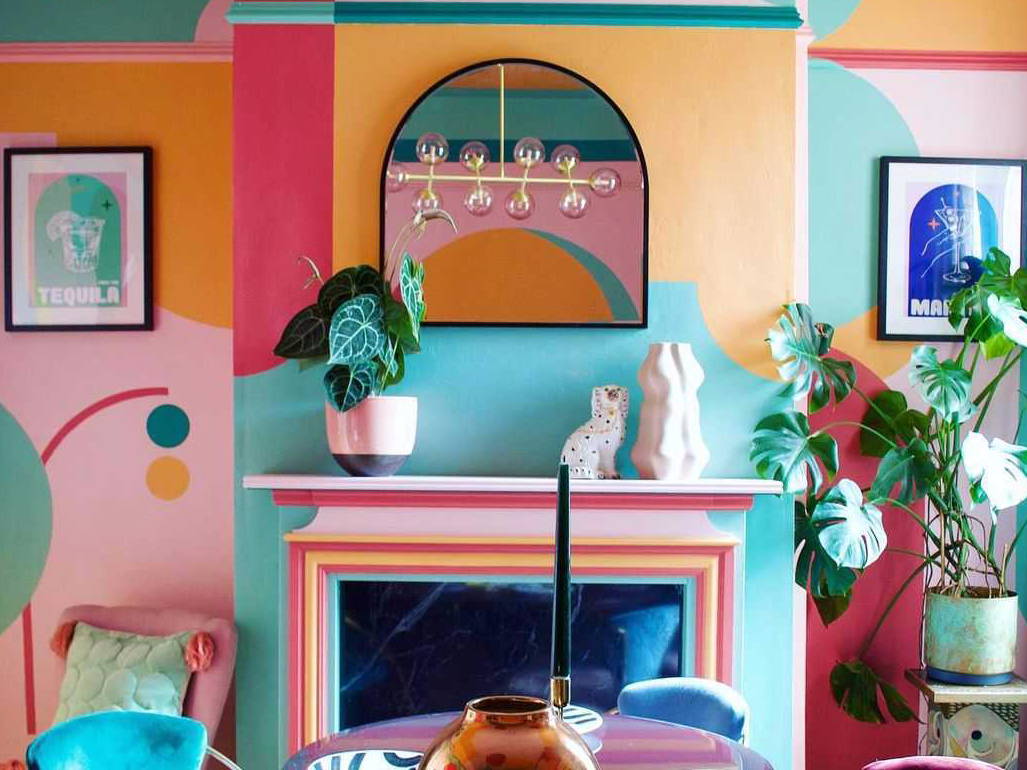 Tell us a bit about your journey as more and more people took interest in your work.

Things really started to pick up after my bathroom reveal, I was contacted by a few huge homeware brands and the account went from 7K-10K in 3 days. It was a bit of a whirlwind, I couldn't even look at my phone! The best part about it was the bathroom felt the most essentially me - the most homo, the most fun. So for it to garner such an overwhelming response was just the best feeling ever! It gave me the confidence to be even more daring with colour and shapes, and last week my dining room was shared on Architectural Digest italia, which is the most insane thing to have ever happened (EVER!).
Your murals are super crisp and well executed. Do you have a background as a fine artist?
You know, I was AWFUL at art in school, I never had the knack for it. I was mostly a straight A student, so if anything wasn't instantly successful I kinda took a step back so I focused on music and academic studies instead. After university I went into visual merchandising, so I think that's given me a good eye for detail and balance, but the rest is just luck!
I'd imagine one could make an awful mess out of their walls without a little experience or pro guidance. Can you share any tips for successfully creating a mural?
It's really really smart to plan, and I can hold my hands up and say I don't always, but it's so important because going back over things if you change your mind is hard! If you get a design together, draw it out on the wall and then make sure you're happy before you paint.
 That said, my top tips are:
1) Style the space and walls as early as possible so you can incorporate them into the mural design – a circle around a vase or picture frame makes everything look completely intentional [and] more beautiful!
2) Use a teeny tiny paintbrush to go around the outlines, and then work up to bigger brushes to fill in. My advice is to paint confidently rather than timidly; especially for curves. A confident brushstroke gives a much stronger line, and if you mess up you can just paint over it!
3) Always have a glass of wine on the go – it is kinda a joke, but I always do and it definitely calms the nerves and emboldens the painting which helps with crisper lines!
---
Since we're on the subject. . . you created a piece of LED neon artwork recently. Can you tell us about your design?
I love my sign! You guys very kindly got in touch to work on a design together, and my initial thought was, obviously, an archway with a male bust inside. I didn't think it was even possible, but the design you guys came back with is absolutely incredible
Do you have tips for styling neon art? Does it work better on white walls? Should it be layered up with other objects or given some space to breathe?

As you know I'm not a fan of white walls, so HOW DARE you ask me that question (just kidding)? Personally, I love the look of a neon sign on a brick wall. It's just instantly cool, but in a brickless space layering is key! Something about neon glowing through multiple plants makes me a very happy homo.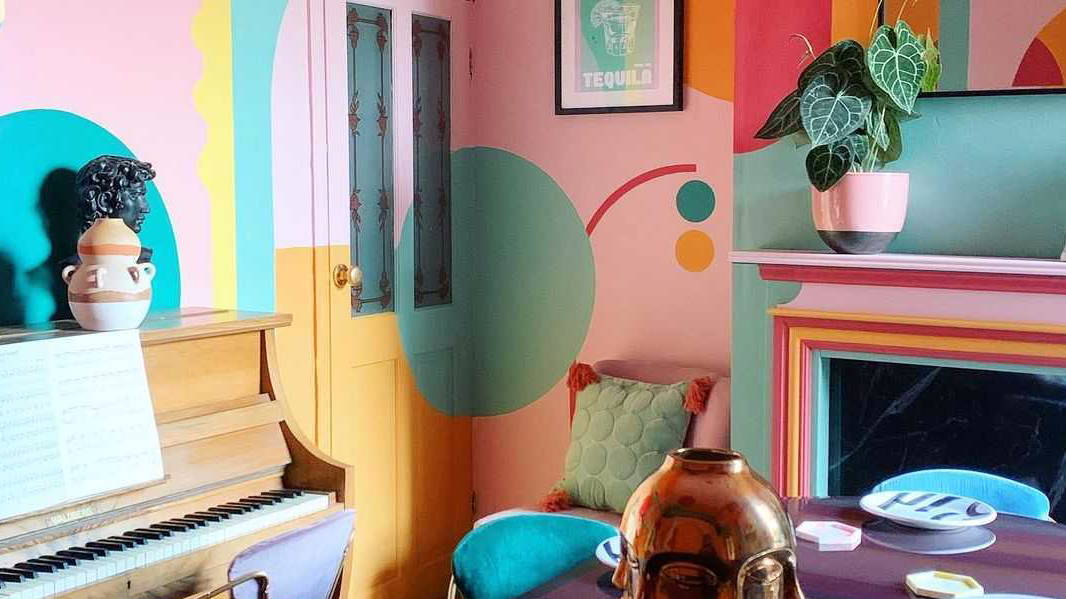 Thanks for sharing your insights and your new sign. Before we let you go, here's one I know our readers will appreciate. Any advice for keeping houseplants alive? Yours are so perky and happy, why do mine always die?
Oh gosh, I'm really not that great at keeping them alive either! I was gifted about 15 plants last year, and it completely tipped me over the edge of manageability and I lost a few over winter. I always try and keep them as close to the window as you can, and I think learning to listen to an individual plant's needs is really important! Also regular misting, feeding and singing to them. I read once that plants love classical music and also being sung too, so dust off that Opera vinyl!