Modern American Neon: Swoon over our collab with Jonathan Adler
Jun 9, 2021
Read More
Fill the neon shaped hole in your heart with a limited edition piece from the design icon's latest collection.
Jonathan Adler knows glamour. He's a potter, designer, author, TV personality, and now - add one more to his list of talents - a neon artist. From his industry favorite Golden Eye design to creative takes on the Atlas Round, Adler's new yellowpop collection brings the hits. Then electrifies them.  
Our collaboration began with a chance encounter in Paris, like so many fabulous stories do. We instantly jived and knew his energy was the perfect match for our brand's illuminating vibes. Eight beautiful works of art later, the collaboration is Modern American Glamour with a neon flavored twist.

We're excited to finally share Adler's work and bring you a behind the look into his dreamy, well appointed world. Check out our chat with Adler at home. Then head over to Instagram and try our new filter that lets you test out a piece from the new collection in your space (or on your face).
At Home with potter and designer Jonathan Adler
Thanks for taking the time to chat and show us around your amazing place, Jonathan. Can you tell us a bit about your aesthetic and design philosophy at home?
I describe my aesthetic in three words: Modern American Glamour. Modern design is fresh, American design is optimistic, and glamour? Glamour always.
We all know people have been spending more time at home over the past year. Do you think it's changed the way we use our homes? Are people seeking more comfort? Color? Creativity?
This year has kinda changed everything. I think the biggest change has been that it has really put a pin in minimalism. People are spending so much time at home and learning that cozy wins out over stark.
Do you think anti-depressive living is more important than ever? Would you update your prescription for a post-2020 world?
Your home should make you happy. Designing groovy pieces has been my lockdown elixir. The fact that those pieces go out into the world and maybe put a smile on peoples' faces is the cherry on top.
We see you've revisited the pill motif for your yellowpop collab. Tell us about the role satire, playfulness, and social commentary play in your work.
I think a lot of people look at my work and assume I am a louche, hedonistic designer, when in fact, I am the exact opposite. I don't do drugs, I don't drink – so my designs are really the only outlet I have to express my hedonistic side. Live clean, decorate dirty!
Can you share the inspirations behind some of the other pieces in the collection?
I have a slight obsession with faces. If you look at my Muse collection of pottery you'll see this idea of repeating forms and faces as an almost geometric pattern. We translated that idea to a few different pieces in my collection with Yellowpop, including the big circular piece with repeating faces going all around. It's trippy and packs a real punch
What do you hope these works of art bring to their new owners? Does neon impact the mood differently than other materials?
I'm a craftsperson first and foremost, and it was a delight to add neon to my repertoire. For years I had a neon-shaped hole in my heart. Then Yellowpop came calling and I picked up the phone!
Can you share a bit about your creative journey as an artist? How does one get from something tactile and earthy like ceramics to a glowing medium powered by technology?
I tried pottery at summer camp when I was 12, and from that moment, I had a spiritual connection. Nothing is more analog than clay – it's mud. But clay is where everything I make starts – from pots to furniture to neon lights; I work out all my ideas behind the wheel. I'm a restless designer – the more materials I work with the more materials I want to work with.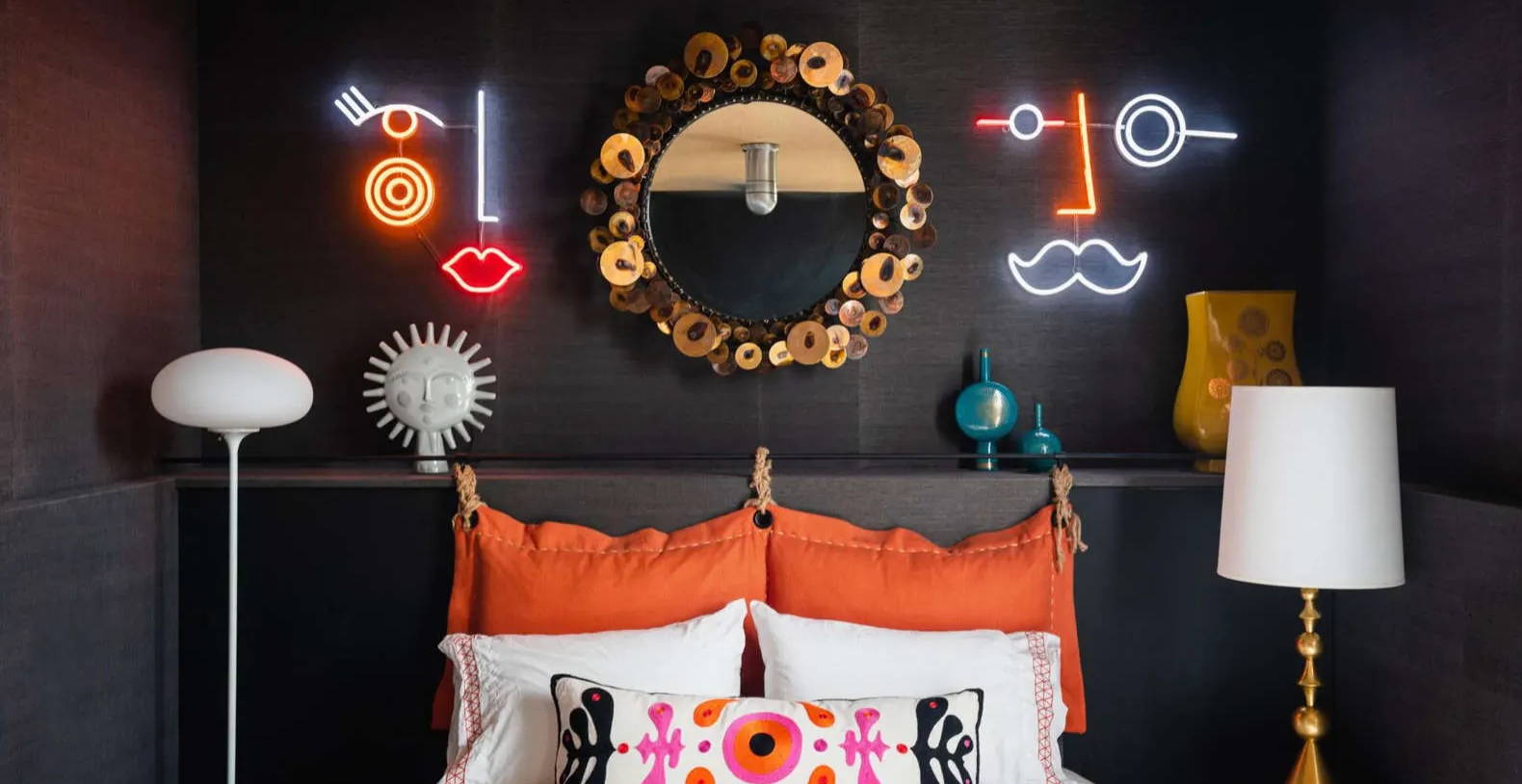 7 foot bananas, dreamy water parks. . . you seem to be having way too much fun. Do you ever take a step back to analyze what a wild ride it's been?
I may sound glib, but the truth is that I'm deadly serious about design. My husband Simon Doonan calls me Arianna Kafka: I'm half bubbly pop star, half brooding philosopher. My career has been an epic creative odyssey, and I've enjoyed every single moment.
You talk about spaces that are seriously designed, but don't take themselves too seriously. How do you walk that line? Any advice for people hoping to do the same at home?
Serious design doesn't have to be so…serious. When designing a space, start with an impeccably chic foundation and then layer in accessories with abandon. I always say my formula is 99% classicism, 1% witticism.
Thanks so much for sharing your insights with our readers. Aside from the Yellowpop launch (of course), do you have any fun or exciting projects on the horizon?
There is always more, more, more on the horizon for me. Like I said, the more I create, the more I want to create – and I don't plan on slowing down anytime soon.